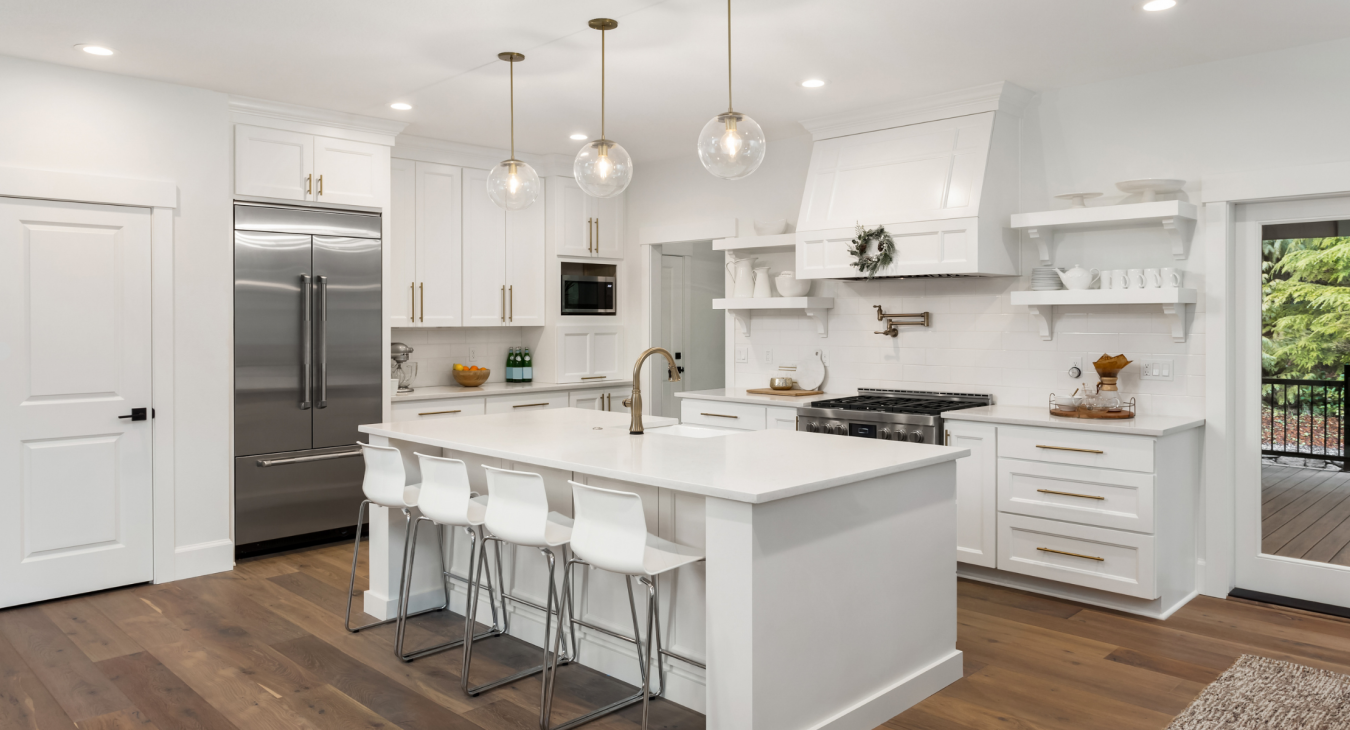 Remodelling your kitchen is one of the most significant renovations you can make to a home, boosting the value of the property whilst adding stylish appeal.
Kitchens consume a lot of electricity, especially if you don't have a gas stove, so before you get started, here are the key electrical and safety aspects you need to consider:
Electrical circuits
You may find, even in newer homes, that the circuit system needs upgrading to include up to 7 different circuits. Large appliances, especially cooking appliances, will need their own circuits. An electric hob requires its own circuit, as does the power points and most built-in microwaves. Lighting will also need to be served by a separate circuit.
It should be a consideration to ensure that your fuse box/consumer unit can handle increased demand from any additional circuits as this could be an additional expense to your project. Good circuit design and separation is also particularly in the case of a fault. It can help with the fault-finding process while also leaving your system partially disrupted - it is important to know where fuse boxes are and to understand what each switch controls; labelling may help.
Rewiring
It is important to ensure that wiring is installed correctly and tested to prove the condition is safe for continued use. Older homes may not be set up to handle the load of modern appliances so you may need to contact an electrician to rewire your kitchen safely.
Socket outlets
Due to the large number of appliances in the kitchen, bear in mind that you will need plenty of socket outlets in different areas. Remember all your appliances need power too!
Plan where you'd like everything to go - smaller appliances such as microwaves and kettles often don't have long cables so they need to be as close to sockets as possible. To avoid water coming into contact with the electrics, sockets and switches should always be fitted away from any water sources - at least 30cm horizontally from a sink.
Do you access recipes from your device, listen to music whilst cooking or work from your kitchen? If so, you may wish to install USB ports for easy charging. For greater accessibility, integrate sockets into kitchen islands.
Overloading sockets can cause fires and countertop appliances can be high energy consuming so don't try and use too many at once. Also keep use of extension cables to a minimum.
Lighting
For safety and food prep, consider task efficient lighting, such as built-in ceiling and under cabinet spotlights. Pendant lights look stylish above kitchen islands and work well as a main source of light. We recommend fitting LED bulbs because they will outlast traditional incandescent and fluorescent bulbs, they're more energy efficient and they can be used for a variety of purposes, including overhead lighting.
Smart features
Have a habit of forgetting to turn off lights when you leave the house? Smart technology allows you to control lights and devices from an app, removing the need for wires that can get in the way of cooking.
It's a good idea to have regular electrical inspections carried out by a reputable electrician. If you're a landlord, it's a legal requirement to have electrical installations inspected and tested every five years.
Don't attempt significant electrical installations, upgrades or rewiring without an electrician.
From installing lighting and fitting extra sockets to rewiring and carrying out inspections, we can fulfil a range of electrical requirements.
If you're looking for a reliable, experienced electrician in the Dorchester area, please get in touch.