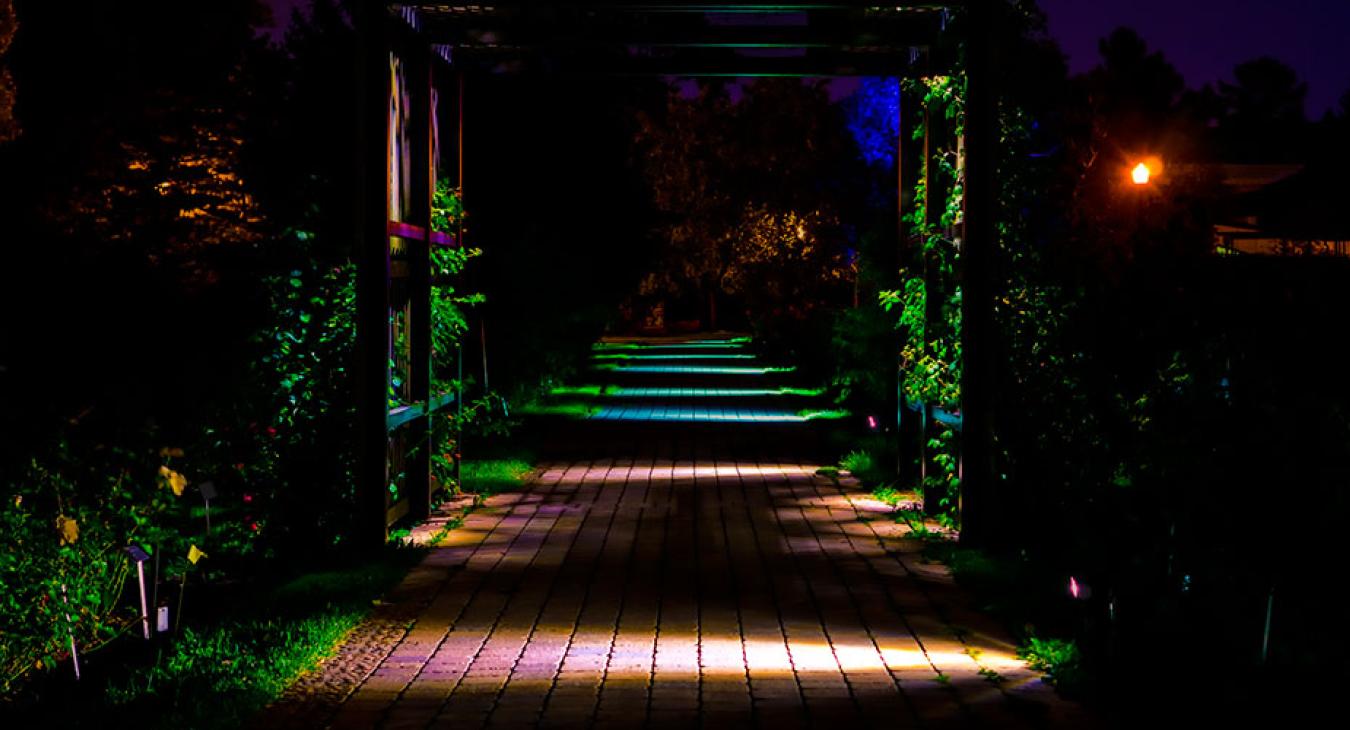 There is so much you can do to give your garden a cosy glow-up, from highlighting beautiful plants and features, to illuminating seating areas or simply adding ambience. Remember the key is to keep lighting soft and warm- no floodlights!
Here's just a few ideas to get you started… if you would like to discuss ideas in person feel free to contact us for further inspiration and a complimentary quote.
Light the path
©Andre Vandal (Flickr)
In the winter, garden paths can be slippery and hazardous so it's important to illuminate them. However, paths only need a soft glow to highlight the outline so solar powered lighting, alongside a few downlighters, is a great choice.
Hang festoon lights
Festoon lighting is an easy (and affordable!) way to create a chilled-out ambience in your garden. We recommend stringing them around a patio or deck with comfy seating. They can be mains or battery-powered and come in a variety of lengths for all garden sizes.
To enhance the enchanting atmosphere further, hang LED lanterns from trees.
Give your seating a glow
Built-in garden seating is all the rage but have you thought about adding LED strip lights? Strip lights add a soft, diffused glow to create the perfect atmosphere for intimate social gatherings in the garden. You can even change the warmth, colour and brightness of the lighting to suit the mood. In the day, they can barely be seen… bonus!
Add lighting to water features
Soft light reflecting off water always looks magical, particularly at night. For a pond, add lights beneath the water to give it an enchanting glow whilst highlighting interesting aquatic plants and pond life.
For safety purposes, it's always a good idea to let people know where the water is!
Highlight key features with directional lighting
©Asaph441 (Wikimedia Commons)
Lighting can be used strategically to draw the eye to certain parts of the garden, such as sculptures, plants and water features.
Spike lights can be placed at the bottom of trees to add a warm, magical glow and silhouette surrounding foliage textures. Make sure to choose spike lights on a long cable so that they can be moved around the garden as the seasons change.
Recessed spotlights sit directly on the ground but can be tilted to focus on your favourite areas.
Level up