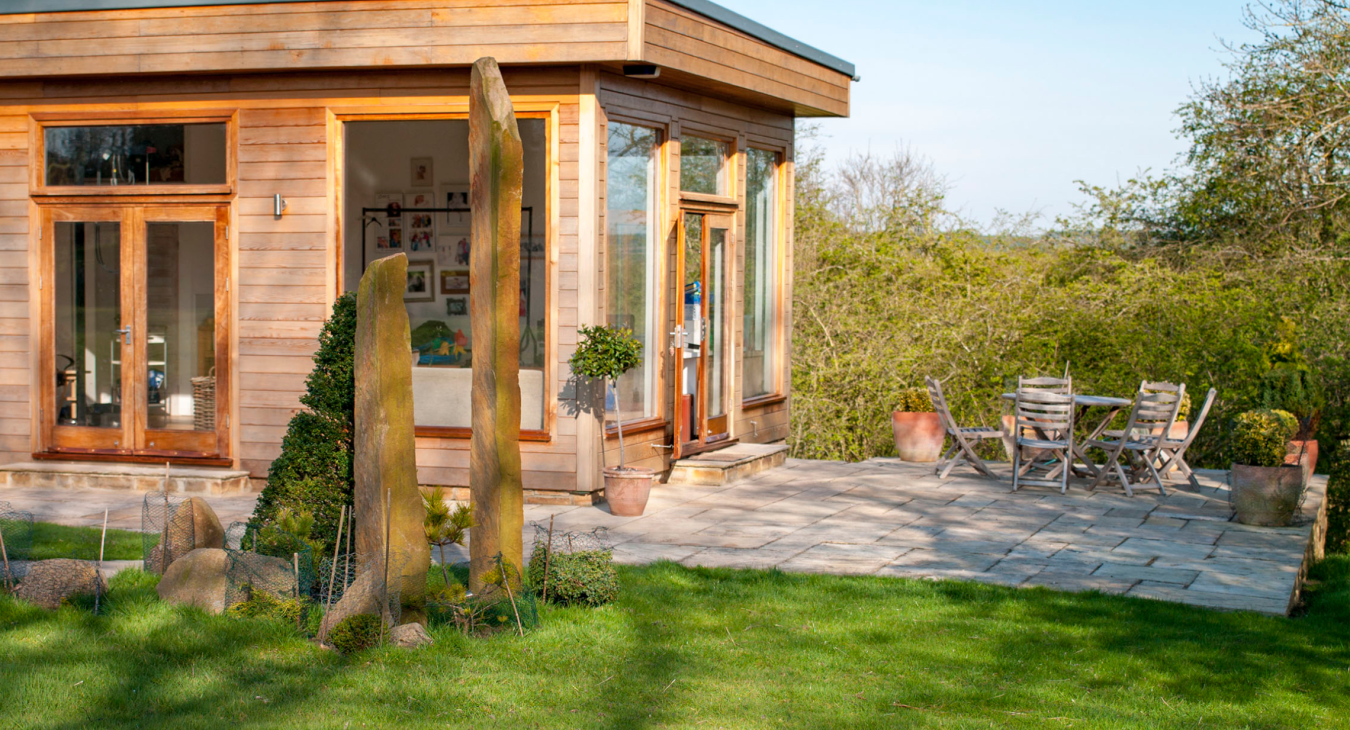 As many of us adapted to working from home during the pandemic, some homeowners decided to separate work and home life by creating a garden office or studio.
When it comes to the electrics for your outside office, there are a few things to consider. 
A garden office is a lovely place to work from in the summer but if you'll be using it all year round, you'll need to think about lighting and heating, as well as power for your electrical items, such as computer and printer. 
Connecting electrics to your mains supply
Some garden offices come pre-wired as standard, with sockets and cabling for lighting, power and heating incorporated within the structure of the building. Bespoke made ones give you much more freedom to include the things you would like best!
Even if your garden office is prewired, you will still need to hire a qualified and registered electrician to connect the garden office electrical supply to the mains in your house. Any works that involves installing a new circuit in the domestic environment require a building control notification.
This is done using a heavy-duty armoured cable which is usually buried underground in a trench. One end will be connected to the consumer unit in the garden office and the other end to the main fuse board in the house. You may need a new circuit added to your fuse box to support the extended electrical system.
Once the work is complete, the electrician will test the circuits and provide a certificate to show that it complies with Part P of the Building Regulations, which is a legal requirement.
Data Cabling & Wi-Fi
In order to get your work powered up and keep your boss happy, you will need to ensure that you have data cabling installed.
Hardwiring data cabling is the most reliable solution for garden office internet connections. Cat6 cables are used for broadband, telephone cable and audiovisual cables for music and TV.
These cables usually have their own channel which runs from the office to the main connection points in the house. They are also buried underground but should be kept away from the main supply to avoid signal disruption.
If the garden office isn't far from the house you may be able to connect to the wireless network in the home. However, it's worth bearing in mind that garden office insulation may interrupt and weaken the signal.
Lighting 
Your lighting choice will depend on the size and structure of your garden office.
Garden offices often come fitted with ambient lighting but you may consider adding task lighting for certain areas, such as the desk. Other recommended options are recessed downlighters, spotlights and track lighting. 
Think about installing exterior lights such as downlights, coloured LED lights and floodlights for security.
You may be able to have the option of controlling the garden office lights via a home automation system, key fob or your smartphone.
Heating
Even though your garden office may be well insulated with double glazing, they can still be chilly in harsh winters. 
From convector heaters and infrared to underfloor heating and oil filled radiators, there are a range of heating options when it comes to warming your garden office.
Electric convector heaters tend to be the most common type of heating for garden offices. They offer instant heat and units with a timer can be controlled easily.
Oil filled radiators are another popular choice because they are often freestanding and mounted on wheels. Their minimum and maximum temperatures can be set.
To save energy, you should get a thermostat fitted or a timer so you can control the temperature and when the heating is on. 
Heating can be controlled remotely, just as lighting can. A great way to heat up the room before you arrive or turn it off if you've forgotten. Thank goodness for modern technology!
Other electrical work that will require a registered and competent electrician to carry out includes, fitting smoke and burglar alarms, installing an AV system and adding extra sockets (it's always better to have more!).
We are well versed in fitting lighting and electrical installations for garden offices and completing testing. Please get in touch for a free quote.